Top 5 Cocktails To Make With Homegrown Produce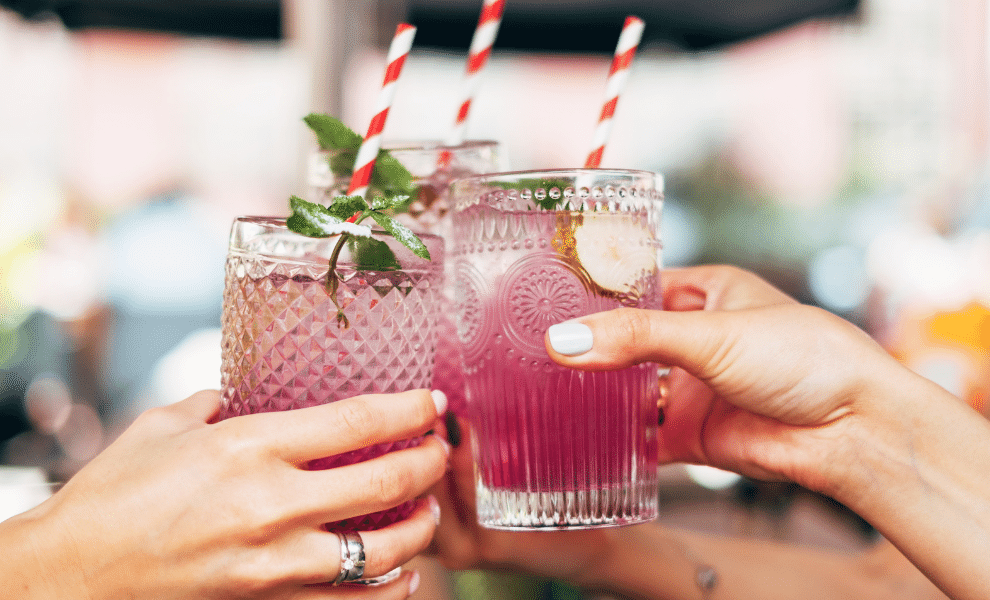 We've curated the ultimate list of garden-fresh cocktails you can master at home, using produce plucked straight from your Airgarden. We're talking herbs, fruits, and even vegetables shaken into deliciously—dare we say it—almost healthy cocktails.
Grab your shakers, here are five garden-fresh cocktails to make at home.
Southside by Ink Gin
One of our favourite distillers is Husk in NSW, and their truly beautiful botanical Ink Gin,
The Southside is named after the southside of Chicago, and was apparently one of Al Capone's favourite cocktails, the Southside is delicious, fresh and simple to mix. 
Ingredients
60ml of Ink Gin

30mil lime juice

20ml simple syrup

Mint leaves
Method
Shake gin, juice & syrup, plus three mint leaves, in a shaker with ice. Double strain into a coupe glass & float mint leaves on top to garnish.
Honeydew Basil Spritz
Featuring honeydew melon, fresh basil leaves from your Airgarden and Prosecco, this sparkling green beauty tastes as good as it sounds. Will make 4 -5 drinks.
Ingredients
1/4 honeydew melon, diced

1 package of basil

120ml of simple syrup

1 bottle sauvignon blanc

1 can soda water
Method
Muddle a handful of melon, 3-4 basil leaves and 30ml simple syrup in shaker.
Fill wine glass 3/4 full with ice for large glasses and half full for small wine glasses.
Pour muddled fruit and basil over ice.
Add 120ml of wine.
Top with a heavy splash of soda water.
Celery Gin & Tonic
This is a refreshing twist on your traditional gin and tonic. The best part? It looks as good as it tastes.
Ingredients
1 celery stalk, chopped

1 tablespoon sugar

30ml fresh lemon juice

60ml of your favourite gin

Lemon twist (for serving)
Method
Muddle celery with sugar and lemon juice in a cocktail shaker.
Add gin, fill the shaker with ice, and shake until the outside of shaker is frosty.
Strain into a rocks glass filled with ice and garnish with a lemon twist.
Cherry Tomato Margarita
While Bloody Mary's might get all the attention when it comes to tomato cocktails, we're showcasing how versatile this fruit can be with this cherry tomato margarita recipe.
Ingredients
Coarse or flaked sea salt

3-4 sweet yellow cherry tomatoes

Pinch coarse or flaked sea salt

3 tablespoons silver tequila

1 tablespoon orange liqueur

1 tablespoon fresh lime juice

1 tablespoon simple syrup

Cherry tomatoes for garnish
Method
Rim a glass with coarse salt and set aside.
In a cocktail shaker combine cherry tomatoes and a pinch of salt; muddle the tomatoes until broken up and juiced.
Add tequila, orange liqueur, lime juice, simple syrup, and ice; and shake well until chilled.
Double strain into an ice-filled glass. Garnish with a few cherry tomatoes on a bamboo skewer, if desired.
Coriander Mojito
Replacing mint with coriander, this refreshing Cuban cocktail is a sweet and sour island treat.
Ingredients
¼ cup fresh cilantro leaves.

1 lime (cut into eighths)

1 tsp sugar

15ml of simple syrup.

½ cup of ice

60ml of white rum
Method
Add coriander to a cocktail shaker along with 1 lime (cut into eighths), 1 tsp sugar and 15ml of simple syrup.
Shake vigorously, and then add ½ cup of ice and 60ml white rum (such as Bacardi).
Strain into a highball glass half full of crushed ice, and garnish with a lime wheel and a pretty sprig of coriander.